Faux Rattan Folding Lounge Set - Natural

70 reviews
RRP £249.99
0% Interest payment plans with..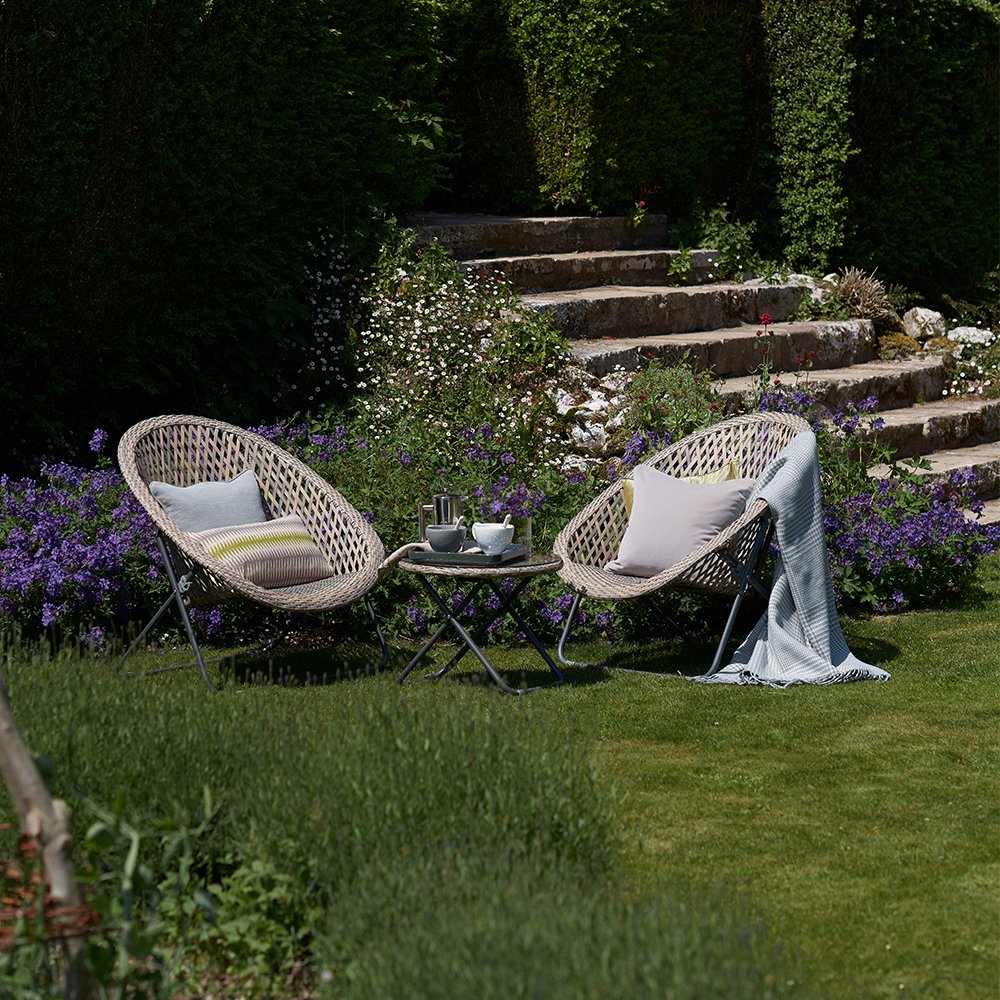 Product Description
Relax and enjoy the sunshine in our Faux Rattan Folding Lounge Set. This lovely set features a rustic style that can easily be accessorised with your favourite cushions for extra comfort. Our Faux Rattan garden furniture provides the ideal seating area for you and your friends to enjoy some fresh air and comfort in style. It can also be folded away easily at the end of the summer and stored away discreetly ready for next year.
Quick delivery
Dimensions: Folded Chair - W75cm x H81cm Assembled Chair - W74cm x H80cm x D83cm Folded Table - W50cm x H41cm Assembled Table - W43cm x H40cm
No quibble returns
Simple self assembly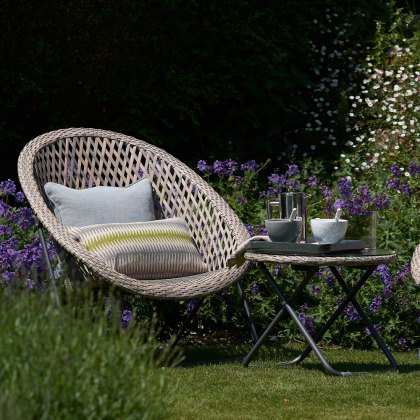 Specification
Dimensions
Product Code
9000018260
Colour
Brown

Product Type
Garden Chairs

Customer Reviews
By
Gail Schofield
on
28th September 2022
"Arrived really quickly, well packaged and is so comfy even without cushions. The chair frames fold for easier storage which is a bonus. Perfect "

By
Helen Fisher
on
30th August 2022
"Set looks great on the decking. The two chairs are really comfortable and the table is just the right height. Really like the colour too. "

By
Marie Merry
on
25th August 2022
"After researching a number of garden sets, we opted for the Faux Rattan set. There were a number of retailers advertising this product, however, we decided to purchase from a local supplier rather than one of the 'big' boys. The ordering process was very smooth, with a click and collect available next day. Very polite staff, and service excellent. Price was also extremely competitive for a smaller retailer. In fact, we shall purchase from them in the future."

By
Kelly Fardon
on
23rd August 2022
"Really lovely sturdy furniture that is extremely comfortable, perfect for relaxing in the garden with a G&T."

By
TWilson
on
21st August 2022
"Great chairs. Quick delivery. May order another set they are so comfy. "

By
Jackie Shanley
on
15th July 2022
"Absolutely love this set - so comfy & looks great Delivery was great and arrived well packaged"

"We are very happy with the garden furniture we bought from Woods, it's excellent quality and very comfortable. The service from Woods was very good. It was easy to order from the website and was delivered on time."

By
Caroline Biddle
on
25th June 2022
"Very pleased with the chairs and table, very comfortable and great quality for the price, delivered fast "

By
Debs Benjafield
on
17th June 2022
"If I tell you that I've just ordered my THIRD set, I think that's all I need to say (but I will go on!): it's a fabulous set and I thank my lucky stars that purely by chance I sat in one of the chairs on display outside the Brewery Square store about 3 years ago! Great quality and sooooo comfortable (old and young have commented when they've visited). Can't recommend this super set highly enough. Five big fat ones for this li'l beauty (stars, that is!). "

By
PamelaPowis
on
19th July 2021
"Excellent service. Great quality furniture."

By
AnnWalford
on
1st July 2021
"I love this set. It is really good quality, great price and looks lovely with a couple of bright cushions on them. The delivery from Woods was super quick (and included a courtesy call to let me know it was on the way). It was with me within a couple of days despite saying about 2 weeks on the website. I would definitely purchase from them again"

By
NancyGibson
on
23rd June 2021
"I am absolutely delighted with my garden furniture. Great quality and an excellent service from Woods Furniture. "

By
AlisonBurnett
on
17th June 2021
"This is the second set we have bought. So comfy and looks fabulous I have added cushions and throws but looks equally good without. Delivery earlier than expected well packaged. Excellent service from Woods would highly recommend. "

By
EmilyHurley
on
9th May 2021
"Love this set, it's so comfortable and looks great in the garden. You cam dress it up with some bright cushions. "

By
SarahJaneRundle
on
7th May 2021
"Have just received my new garden set and am absolutely delighted. The quality of the product is excellent. Looks absolutely stunning in the garden. I am delighted with this product!!!"

By
ElaineRobson
on
27th September 2020
"Lovely furniture so happy I ordered it."

By
NicholaBurns
on
3rd September 2020
"Great products, very well packaged. Love the chairs "

By
AnnMayor
on
1st September 2020
"The chairs are much nicer than expected very big chair and deep seat...perfect for my summer house. "

By
MalcandJudeMollart
on
1st September 2020
"We are delighted with our lounge set, so comfortable and they look so good!"

By
JacquiePietkowicz
on
31st August 2020
"Lovely lounge set very pleased with product and service ..."

By
Wendy
on
31st August 2020
"Excellent service High quality garden set, looks wonderful under my new Pergola "

By
SarahRogers
on
31st August 2020
"Well packaged for delivery. Beautiful chairs excellent uplift exactly as described in the brochure . Would definitely recommend . "

By
TeresaSmith
on
28th August 2020
"Very pleased with furniture which I bought for my summerhouse, looks lovely."

By
AMYCWHITEHOUSE
on
28th August 2020
"Great comfy look hard wearing "

By
Joanne
on
27th August 2020
"Good quality product. Pleasant and efficient company to deal with. Thank you."

By
AlisonBurnett
on
27th August 2020
"Really pleased with this Rattan Folding Garden Set excellent value for money looks really stylish and is very well made also extremely comfortable. Delivery was efficient cannot fault anything - highly delighted. "
By
WendyKemp
on
25th August 2020
"I have just received my rattan folding lounge set and i am very pleased. It is really comfortable and stylish. Woods delivered exactly when they said they would,i am very satisfied, just need some nice weather now."
By
MelBB
on
24th August 2020
"very nice product"
By
Mrs Theresa McCaskie
on
28th July 2020
"Beautiful set. Looks great outside and in the conservatory. Comfortable and looks great.
Well worth the money in my opinion."

By
MelanieSparrow
on
28th July 2020
"Love these chairs!"

By
HelenParsley
on
28th July 2020
"Excellent service and communication very very pleased with superb quality item "

By
JillianHardaker
on
26th July 2020
"Lovely furniture set, very comfortable. Looks fab in my garden."

By
Carol
on
25th July 2020
"Really pleased with purchase fits nicely into space I needed it for, so comfortable added little cushion and a wee footstool.. everyone's commented.. Thank you so much Carol"

By
Ms Gilly Claytonjohns
on
25th July 2020
"Loving them. Really comfortable..no complaints at all"

"Really comfortable chairs, nice high back to sit back & relax in the sun... very cute set, so happy with it that we've ordered a second set !!"

By
Ericacton
on
23rd July 2020
"Lovely garden set, chairs a very comfy "

By
Mrs J Brigginshaw
on
22nd July 2020
"The chairs are brilliant, very comfortable. We have added a couple of cushions, but they are not really needed. You sit quite low but they are still easy to get in and out of"

By
Chris
on
22nd July 2020
"Very happy with the product and service- lovely quality garden set that looks great, but is also comfortable and practical. Very good customer service and items well packaged, would recommend. Many thanks"

By
WendyEnglish
on
22nd July 2020
"We are very happy with our furniture. It came assembled, looks great and is very comfortable. Shame it doesnt come with covers ."

By
GillyClaytonjohns
on
21st July 2020
"Very happy with my rattan folding lounge chairs and table. Good quality nice colour. Only thing is it would have been nice if there were covers for them on offer. Good service and delivery on time. Would buy again from woods. "

"Chairs are so comfy, really pleased with purchase"

By
TheresaMcCaskie
on
19th July 2020
"Good service. Friendly communication. Items arrived when said. Items as described, beautiful. Very happy customer."

By
ClareKeiditsch
on
17th July 2020
"Absolutely fabulous / size , colour everything spot on "

By
SarahWard
on
16th July 2020
"Loving this different design and very happy."

By
Miss M Mertes
on
15th July 2020
"Great quality product, very comfortable chairs."

By
JaneBlackman
on
15th July 2020
"Fantastic product, high quality and very comfy. Woods furniture kept us informed the whole well through very professional! "

By
JoBrigginshaw
on
14th July 2020
"Oh gen our chairs and table arrived they were very well wrapped and protected. The chairs are really comfy, they do sit low to the ground but not so you can't get out of them! We have added a couple of cushions in each chairs just for added comfort. The table is smaller in diameter than expected, but for what we wanted it for it is perfect, just to put mugs, magazines etc on. It is a lovely set for any garden. "

By
Martina
on
14th July 2020
"Looks great and the chairs are super comfortable. Fantastic customer service from Woods as well, to ensure delivery went smoothly."

By
HelenWilliams
on
12th July 2020
"Fabulous set! Chairs are so comfortable! "

By
DanielaJung
on
18th June 2020
"Great set of 2 chairs and 1 table. Really comfortable and just the right size. Looks good too! Very happy with my purchase"

"Lovely table and chairs. Comfy, look good.... just need the sunshine ???? "

By
Mr P Vernon
on
8th June 2020
"Great product - Well made"

By
PaulVernon
on
2nd June 2020
"Excellent good value product"

By
MarisaHarvey
on
30th May 2020
"They are even better than expected, look great, very comfortable, well priced. "

By
DawnBailham
on
24th May 2020
"Lovely garden furniture very tasteful and comfortable and easy to assemble. Appears just as the advert states. Very pleased "

By
PaulVernon
on
22nd May 2020
"Excellent product"

By
TonvanEsch
on
18th May 2020
"Fast delivery, great communication, product as advertised, well build, comfortable. "

By
TonvanEsch
on
18th May 2020
"Fast delivery, great communication, product as advertised, well build, comfortable. "

By
Mrs Jennifer Baulk
on
14th May 2020
"Super comfy and look great."

By
Mrs B Cattermole
on
11th May 2020
"To repeat myself, these chairs were good quality and easy to fold up.
Very comfortable too. Am very pleased with the purchase and my experience with this company."

By
Mrs Sara Gwilliams
on
11th May 2020
"Good clear and easy to use website. Quality furniture at a reasonable price"

By
RachaelGregory
on
10th May 2020
"Really pleased with the outdoor furniture we bought. It is well made and seems really good quality as well as looking really nice. "

By
Miss Faye Cook
on
6th May 2020
"Sturdy, good colour, fits well on a balcony"

By
Mrs Louie Ghibaldan
on
5th May 2020
"Great service and beautiful folding chairs with table - really comfortable and great quality."

By
Mrs Maggie Walden
on
28th April 2020
"Excellent quality, comfortable and stylish lounge set"

By
Mrs L King
on
28th April 2020
"Looks lovely on my patio put some cushions on very"

By
Lindaking
on
27th April 2020
"Arrived today love them do you have a cover for them for the rain "

By
Mr A Geddes
on
25th April 2020
"as above..... we are pleased with the quality"

By
Ms Tracey Redman
on
24th April 2020
"Lovely set! Very comfortable and looks lovely."

By
LindaHawkes
on
19th April 2020
"Excellent value for money. An excellent quality, stylish set."

write a review
Delivery & Collection
Options Available:
Click & Collect
Collect From Our Dorchester Warehouse
Small Furniture Item Delivery
£24.99
Deliveries
Depending on the product, we deliver with either 1 or 2-man delivery partners, and if you live within 30 miles of Dorchester we will deliver with our own in-house delivery team.
Most in stock items are delivered within 7 business days, with small furniture items (such as dining chairs) delivered within 3 business days. We always aim to deliver within the estimated delivery period shown in your order confirmation.
Returns & Refunds
Straight forward returns process
Helpful & friendly customer support team
Reliable and prompt communication throughout.
Read all about our returns and refunds policies in more detail here
People who bought this also bought...