Stressless Chairs
Here at Woods Furniture, we stock a wide range of Stressless chairs that are designed to provide functionality and comfort for everyday use. An Ekornes Stressless chair will provide you with not only comfort but they are available in a variety of fabrics and leathers and so you're sure to find a style you love. The most state of the art construction tools are used to design and develop Stressless chairs, from idea to production. Quality trials and testing are also carried out in laboratories, so you know your Stressless sofa or chair is designed to the highest standard.
---
---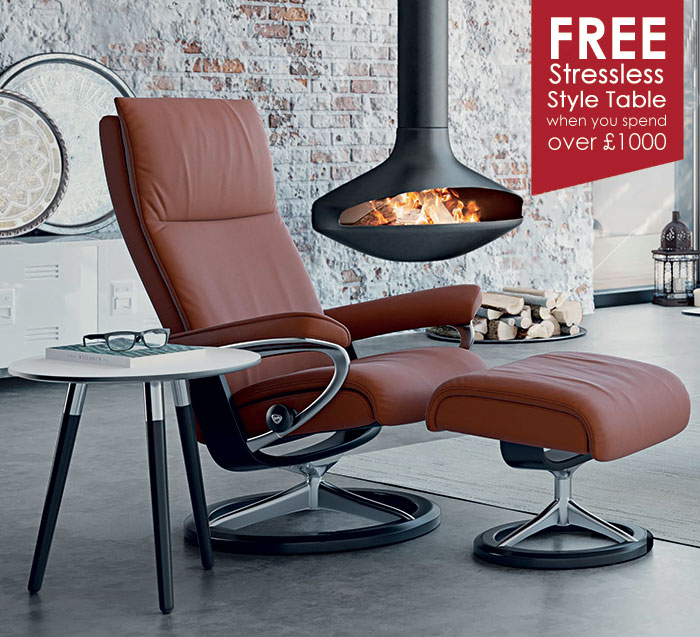 WINTER PROMOTION
Spend over £1000 to get a
FREE Stressless
®
Style Table
Get your unique promo code
*Terms and conditions apply. One voucher per order and per household. Spend over £1000 to qualify for a free Stressless® Style Side Table in your choice of colour and wood finish RRP £189. Spend over £2000 to qualify for a free Stressless® Style Sofa table in your choice of colour and wood finish RRP £299. Spend over £3000 and qualify for both Style sofa table and Style Side table. Free table applicable on all new orders placed between 26th December 2018 – 29th February 2019 that meet the qualifying spend threshold. Spend thresholds are based on the final sale price inclusive of any discounts. Offer not valid against Stressless® dining, ottomans, tables or accessories. Excludes display items, stocked promotional chairs and clearance. Redeem code in-store at time of purchase. Vouchers cannot be applied retrospectively against existing orders. Main image is Stressless® Aura recliner with Style Side Table.
---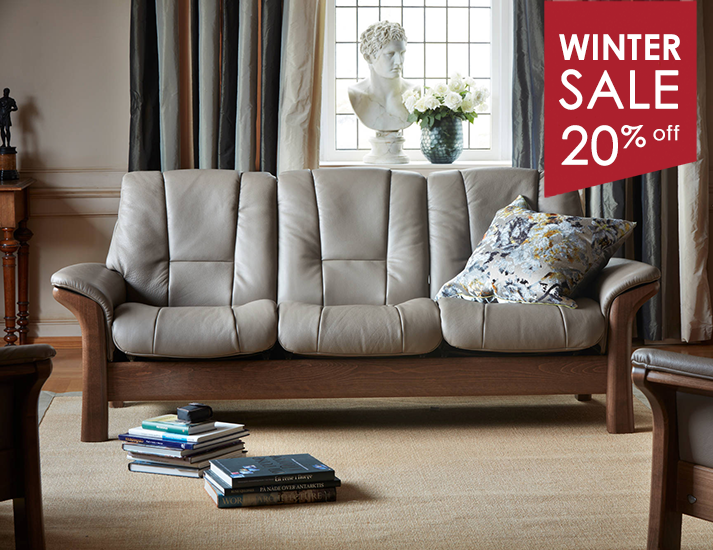 About Ekornes Stressless Chairs
Under the surface of a Ekornes Stressless chair lies true engineering genius. They feature multifaceted sets of springs that contour your body whilst you sit back and relax. Every aspect of an Ekornes chair is purposely assembled to ensure you receive an unparalleled seating experience. The science that goes into our much loved Stressless collections will provide you with one of the most comfortable and unique chairs in the world.
---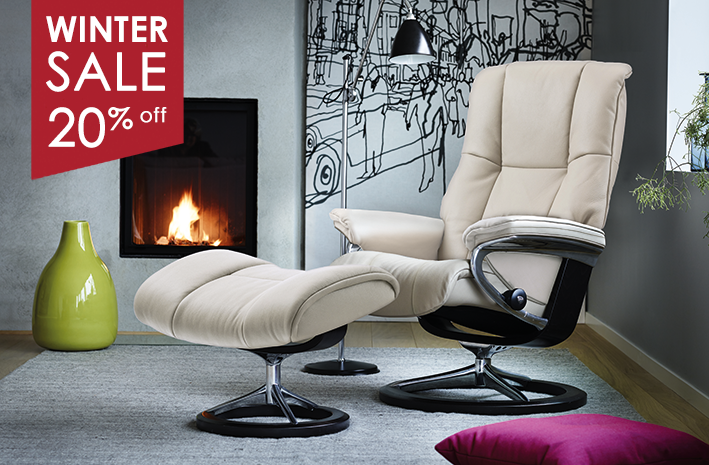 Enjoy the feeling of unique comfort
Comfort is nearly impossible to describe, but Stressless manage to encapsulate it in every stitch. Combining a passion for detail with a drive for innovation, Stressless have been bringing pure relaxation and style into our homes for over eighty years.
---
---
---
---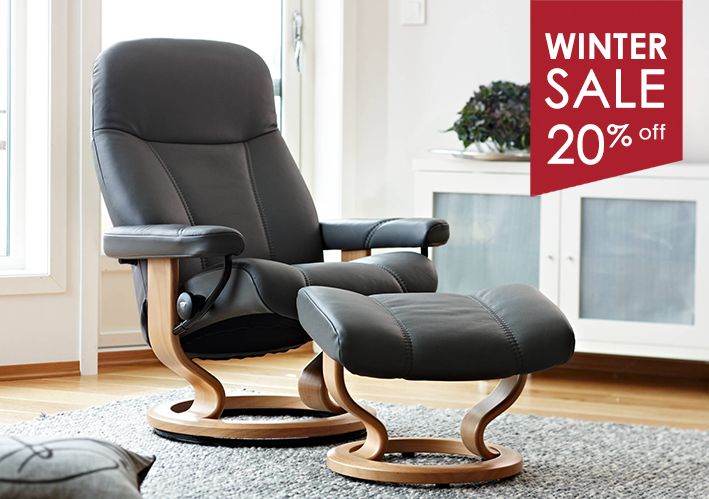 Stressless Recliners
We stock a wide range of Stressless recliners in a variety of leather options. Each of our Stressless recliner chairs are built for optimum comfort, so all you have to do is sit back and relax. An Ekornes recliner will sit perfectly in anyone's home and are available in a range of styles. Why not pop into our store to try out one of our Ekornes Stressless recliners and experience the comfort yourself?
---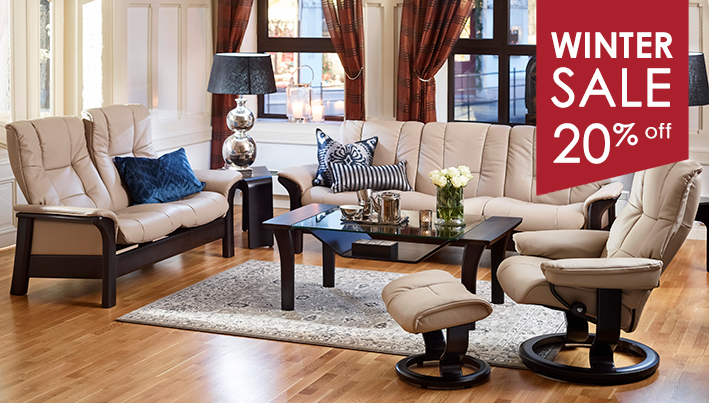 Stressless Sofas
Let the whole family join in on the comfort with a Stressless sofa. An Ekornes sofa from Woods comes in a variety of leather options and sizes, so you can choose a style that will suit your home. You're sure to fall in love with our Stressless sofas collections.
---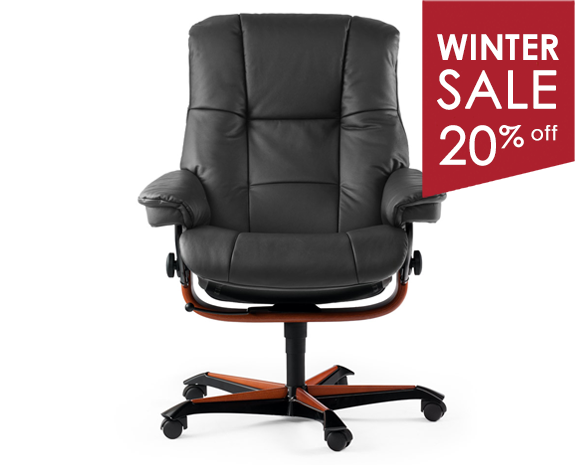 Stressless Office Chairs
Sit comfortably at your desk with a Stressless office chair. For a classic, elegant office style with cushioning that is supple and coomfortable, our Stressless office chairs will provide you a premium seating option for your office space. Find out more about our Stressless Mayfair and Stressless Consul options in store or why not give our team a call?
---
---
---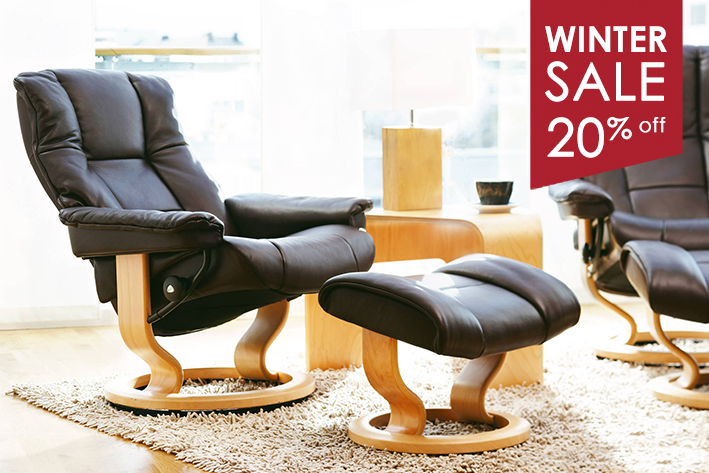 Stressless Mayfair Chairs
Featuring a classic, relaxed style, the Stressless Mayfair chair collection will provide you with optimum comfort as well as a durable, hard wearing frame. The Stressless office chairs from our Mayfair range are available in a number of style options, so you're sure to find the perfect style for your home. You can recline comfortably at your desk whilst their headrests automatically adjust for added comfort and support.
---
Luxuriously comfortable...
---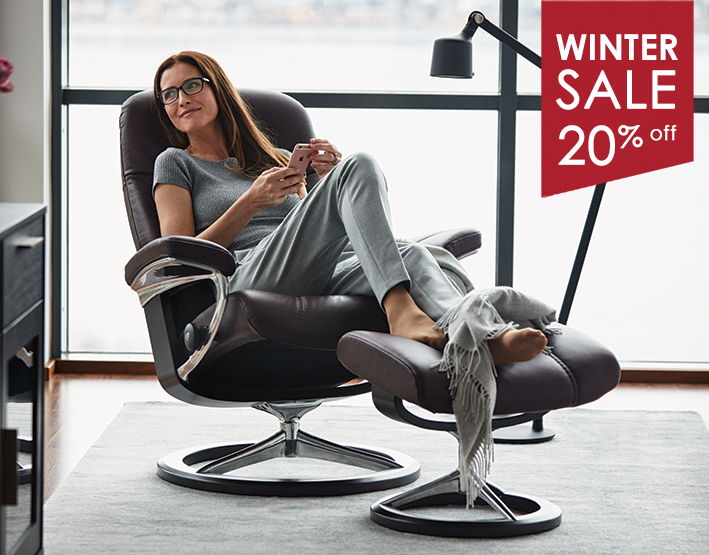 Stressless Consul Chairs
The Stressless Consul collection features a classic, elegant design that is available in a range of colours and styles. The Stressless office chair from the Consul collection will provide you with extreme comfort thanks to its soft Polyester fibres and is molded with Comfort Zones. It's elegant and pleasing look will suit anyone's office.
---
Would you like more information on our Stressless range?
Here at Woods Furniture, we stock a wide range of popular Stressless chairs. Why not call or visit our store to find out more about the Stressless collections we have to offer? We are extremely proud Stressless stockists and would love to welcome you to our showroom in Dorchester, Dorset.
---