Delivery and Returns Information & FAQs
Delivery and Returns Information & FAQs
At Woods Furniture, we offer three methods of delivery to ensure your order gets to you in the quickest and most convenient way. The methods and costs depend the size and type of the items on your order, and in some cases (such as dining chairs), the quantity.
1. Click & Collect
2. Courier Delivery
3. Two Man Delivery
1.Click & Collect
Charges: FREE
If you are local to Dorset or the surrounding areas, then Click & Collection may be an option for you. Once your order is ready for collection, we will contact you to arrange a convenient collection slot. You can then come to our warehouse and take your order away yourself.
The location for collections is Unit F1, Marabout Industrial Estate, Dorchester DT1 1YA.
2.Courier Delivery
We use 3rd party couriers who are able to deliver small items right up to medium sized furniture items like dining chairs, benches, ottomans or bedside tables.
---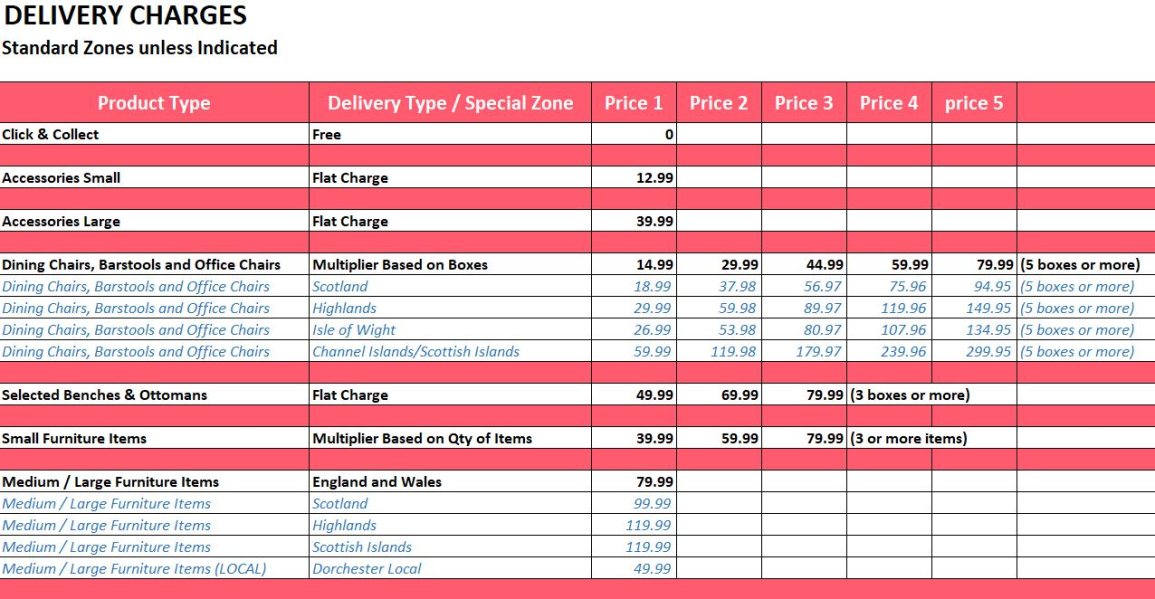 The courier will attempt contact you by email the day before your delivery to let you know they are delivering the next day. They currently can't specify a slot, but we are looking to improve this in future.
Direct delivery: Some of our ranges are delivered to you directly from our supplier. These are usually shipped via DPD and you will receive the usual communications from them regarding your delivery via email and SMS.
3. Two Man Delivery
If you live within 30 miles of Dorchester, Dorset, our own in-house delivery team will deliver your order. The rest of the UK is served by our carefully chosen delivery partners.
Charges:
Local delivery within 30 miles of Dorchester £44.99
Rest of UK (excl. highlands, islands and N.I.) £59.99
Our own team (delivery within 30 miles of Dorchester) will contact you well in advance of delivery to arrange a convenient date for you to take delivery of your order. The goods will be placed in a room of your choice and if assembly is required, the team will also assemble.
If your order is being delivered by our delivery partners in the rest of the UK, delivery will be to room of choice. No assembly is currently offered.
4. Calculating Your Order's Delivery Charge
The total delivery charge for your order depends on the contents of your basket, and how many delivery types those items relate to.
It is calculated by taking the total charge for each item's delivery type, and adding them together. All delivery charges are capped at £79.99 so your order will never cost more than this to deliver regardless of how many items/delivery types are involved with your basket.
A breakdown of your order's delivery charge and how it is calculated will be shown in Step 2 of the checkout.
Delivery to Northern Ireland, Highlands or Islands
If your postcode is placed outside of our standard delivery zones then during your checkout you will see that the payment is requested over the phone. In this case, we'll be able to get a delivery quote for you and take payment for your order over the phone.
We currently do not deliver to Northern Ireland.
In addition, we cannot offer 2 man delivery for large furniture items to the channel islands, Isle of Man OR Isle of Wight.
Delivery FAQs
I haven't received my Order Confirmation?
All order confirmations are sent automatically within moments of you placing your order online. If you haven't received your confirmation check your junk/spam email, and if you still can't find it, contact customersupport@woods-furniture.co.uk and we can send you a copy.
How long will I have to wait?
Your Woods Order Confirmation email will give you an estimated timescale for delivery of your order. Please check this for information about your timescale. We will endeavour to keep you updated if the estimated dates change for any reason.
How do I track my order?
If your order has a courier delivery, you can track your order via the courier's website. A link will have been sent to you ahead of your delivery.
If your order has a Two Man delivery via one of our delivery partners, again, you will have a link in an email from them which will take you to your tracking portal.
Lastly, if you are local to Dorchester and you have Two Man delivery, our own in-house team will keep you updated regarding your delivery date and time, and will call ahead of arrival too so you know to expect them.
Can I choose the time of delivery?
Our Two Man partners offer a 2 hour time slot which you can choose using their portals.
Tuffnells our courier company do not offer timeslots and you will be given a date on which your order will arrive. We intend to improve this soon. Tuffnells will email you usually on the day before your order delivery date and in that email will be a link that you can use to track your order. An order can only be tracked on the day of delivery.
Do you deliver at weekends?
Currently, we do not deliver on weekends. However, with our two-man delivery partners they are able to give you slots well into the evening.
Can I split my delivery to get some items sooner?
Yes, if your order contains a mixture in-stock items, and items we are waiting for then if you contact our team they can arrange a split delivery – additional costs will be applied for this.
Why is my delivery taking longer than expected?
We always try to get you your order within the estimated timeframe on your order confirmation, however with the world experiencing a pandemic, various issues can arise that might affect your order. These can be relating to our supply chain, or indeed our delivery partner's ability to get to you in good time. We will always update you if your estimated leadtime changes by more than one week.
I can't seem to cancel my order
If the option to cancel doesn't show when you login to your account on our website, it's because it is too late and your order has shipped. If the items are unwanted then you can return them to us within 28 days of receiving them for refund (see "What do I need to remember when returning items because I've changed my mind?" section below). Please note if you are returning due to change of mind then your refund will have the original delivery charge deducted.
I missed my delivery?
Our courier company will leave it card if they were not able to leave your order in safe place. Your first port of call should be directly with Tuffnells to rearrange a delivery date with them.
Returns FAQs
What is your "cooling off" period?
You have 14 days to notify us that you intend to return your order, and then a further 14 days to get the items back to us.
What do I need to remember when returning items because I have changed my mind?
Note if you're returning due to a change of heart, then you need to send the items back at your own cost, and you need to ensure the following:
- You have not assembled and disassembled then items.
- Use original packaging
- Take some reference photos of the products, the packaging, and the label.
- Ensure the items are in saleable condition.
If the items/packaging are poorly packed, and are damaged on route back to us we won't be able to refund you so it's really important to pack well, and ensure you have proof you did this if anything comes up.
Finally, please include the returns note inside the box (or one of the boxes), completed with the required details, including the Returns Number you were issued. We cannot accept returns recieved without a returns number.
What do I do if the items are damaged?
Take some photos of the damage, and email them to customersupport@woods-furniture.co.uk with a description of the problem. Ensure you take a closeup if required, and perhaps place a coin in the shot so we have an idea of scale. Include your name and full address in the email (and your order number if you have it). We would also like images of the condition of the packaging your items arrived in to help us establish if the products have been mishandled. You should also retain the packaging until we respond with a course of action in case it needs to be re-used.
We can then assess and let you know what happens next (usually we will collect & replace the items or collect and arrange a refund). It might be the case that a small part (like the foot of a chair), could simply be sent to you if it's a small matter like this.
What if I find a fault after the cooling off period has expired?
We highly recommend you check over your order on receipt. The longer the products are in use in your home, the more difficult it can be to distinguish between faults or customer damage. You have two days in which to report any damage to us. If you notice a fault beyond the 2 day period please do contact us, and we can discuss the next steps with you once we have had a chance to assess the situation.
The colour of my items isn't what I expected – can I return?
Yes, you can return at your own cost, but as is common with all online business you must allow for very slight variations between monitors/computers and so on – with this in mind, a return request based on colour variation (unless of course we've sent you entirely the wrong product), will be treated as a change of mind and you will need to arrange the return yourself.
We do offer a fabric swatch service if you're unsure about the finish/colour before ordering.
The size isn't quite right – can I return?
Yes, you can return items if they aren't quite the right size for you. We do give dimensions for all products on our site, and if once received you find that they are not suitable this return falls under the change of heart category and you will need to arrange and pay for the return, getting the products back to use within 14 days of notifying us you intended to return.
My order is missing some items
If you haven't received all the items you ordered, then double check your order confirmation first. If they are clearly all there, and you definitely haven't received them (or arranged split delivery), then please get in touch with us and we can investigate. Note that you have 2 days to report any missing items.
---