Artisan Living & Dining Collection
We're so proud to introduce our new Artisan range. Every piece has been handcrafted from beautiful reclaimed pine. Rich in character, the wood has a story to tell, through it's worn and naturally aged look. It feels so wholesome to the touch, and has been treated in such a way that no matter how delicate parts of the finish appear, they are tough and ready to continue to stand the test of time, leading a new life in someone's home.
Reclaimed wood furniture is so important both for the producers and also the planet. Why cut down trees when there is so much beautiful used wood stock to build amazing furniture from? They key here is that it is sustainable, and it stops wonderful wood from going to waste. The dining tables in particular are stunning, and what better way to gather friends and family for meals and special occassions and know that you're eating from and enjoying a piece of history.
All Artisan furniture items are stocked in our own warehouse, which means no long lead times, and a speedy reliable delivery. We hope you love it as much as we do!
---
Filter

---
Artisan Diagonal Leaning Shelf
Perfect in a hallway or even the bathroom, this leaning shelf is a versatile storage piece. Providing valuable storage for small items and two hanging rails for throws or towels. This simple design fits into any living space. Diagonal leaning frame This item is made from reclaimed timber and may show natural signs of its previous life Shelf and rail sections W62cm x D50cm...
Artisan Wall Shelf 3
The hexagonal shaped artisan wall shelves come in three different designs that all fit in together when hung on the wall should you choose to mix and match a few. Display a small potted plant, ornaments or family photos on its two shelves, the bottom shelf has a solid pine wood backdrop for added rustic style. W52cm x D17cm x H45cm Made from Recycled Pine This item is made from reclaimed...
---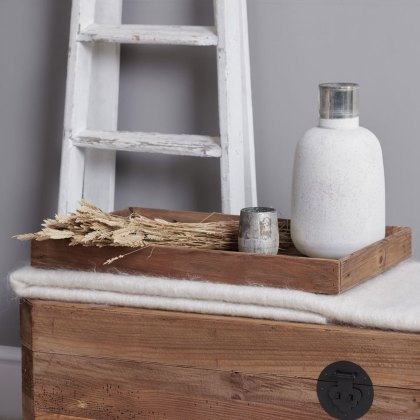 Artisan Small Wooden Tray
Made from a solid recycled pine wood, the Artisan wooden tray is ideal for carrying tea, coffee or even the luxury of breakfast in bed. Use it as a base to frame candles or a vase of flowers on your table when not in use, creating a solid surface on a soft coffee table such as our Suzie or Pumpkin stools. Also available in a larger size. W35.5cm x D48cm x H6.5cm This item is made from...