Harrison Beds
---
Harrison Zip and Link Beds
Harrison Zip and Link Beds are ideal for you if you are searching for a large bed but worry about getting a large mattress through tight hallways or up staircases in your home. Harrison zip and link beds come in two halves with an easy to use zip up the middle. With a bed sheet over the top no one would ever know it was there.

---
---
---
Here at Woods Furniture, we are proud Harrison beds stockists and have been trading since 1889. Harrison beds believe that your most valuable tools are a set of hands. It takes one of their craftsmen one whole week to stitch together a unique Harrison mattress, an art that no machine will ever be able to master, crafted from only the finest of natural fillings.
Which Harrison mattress is best?
Buying a new mattress can be a daunting task. With so many different ones to choose from, how do you know which mattress is best for your bad back? In the past, it was commonly believed that the best mattress to buy for a bad back was a hard one. However, it's not quite the case today – and a hard mattress could in fact cause you more damage.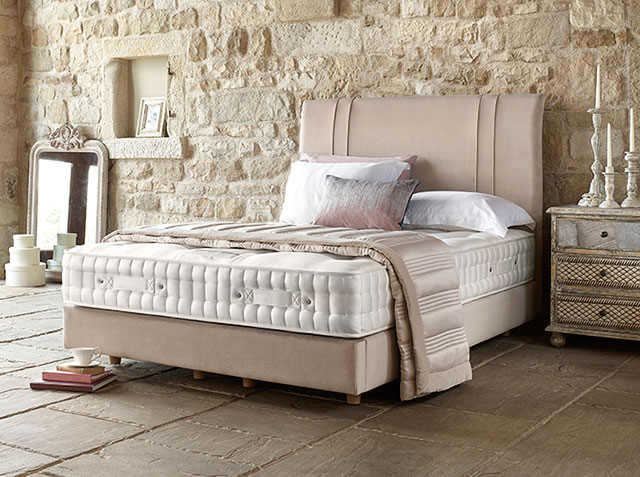 ---
Are Harrison beds good?
You may be wondering 'Are Harrison beds good?' Not only are Harrison mattresses made from the finest, natural fillings but Harrison Beds have their own farm where they rear sheep for their wool and grow the fibres used to make your bed. Each bed is handmade by Harrison's team of skilled crafters, from upholstering headboards to hand tufting each Harrison pocket sprung mattress. Every bed is crafted to the customer's individual needs, for example the Harrison Zip and Link beds are ideal for homes with smaller corridors or 2 people with different mattress requirements.

---
---
Would you like more information on our Harrison range?
Here at Woods Furniture, we stock a wide range of the popular Harrison mattress. Why not call or visit our store to find out more about the Harrison collections we have to offer? We are extremely proud Harrison beds stockists and would love to welcome you to our showroom in Dorchester, Dorset.
Call or visit us for more information >>
---