---
Stressless are known for their intense attention to detail and sheer craftsmanship where it comes to creating the ultimate comfort. Their recliner chairs offer pure indulgence and create the perfect harmony of design, quality and comfort that is almost unchallenged in the world of furniture. Handmade in Norway from their factory on the edge of the wilderness, Stressless Recliners are superior in their ability deliver huge pleasure, relaxation, support and comfort.
Below we are excited to show you two specific recliner chairs and footstools that we have available for quick delivery and are at staggering prices, while stocks last. This is certanily the right time to invest in a Stressless Recliner.
---
Filter

---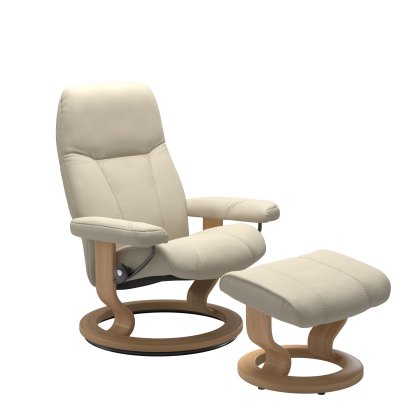 Stressless Large Consul Chair with Footstool, Classic Base - Oak in Batick Cream
This is an exceptional offer, and only while stocks last! The Stressless Consul Large Classic Chair and Stool in Batick Cream and Oak Base is now availble IN STOCK for quick delivery, WHILE STOCKS LAST! A great addition to your sitting room, build by hand in the Ekornes factory in Norway, this recliner is pure indulgence. The use of foam padding and super soft fibres work together in harmony...

Was £1,989.00
Now £1,591.20